Aug
14
Lately,  JS is into learning how to play the ukulele. She is a self learner and learn how to play through tutorials found on youtube. She claims that compared to the piano, ukulele is easier to learn. However she may want to explore the other musical instruments. She was browsing through musicans friend to look for other musical instruments that might strike her interest.
Apr
18
Sadly our fighter of justice and constitutional protector has passed away yesterday morning in a car accident. After having served for more than 4 decades, Karpal Singh has finally laid to rest in peace. I still remember attending his ceramah in the rain at Han Chiang Chinese High School, Penang. There were thousands of people gathering at the school compound to hear all the opposition leaders speak before the 13th General Election. Although it was a short speech, it made my trip worth a thousand rain. Sitting on the wet padang, everyone was a family. Satu keluarga, sharing umbrellas and exchanging views. "Ini Kali-lah", "Ubah", "Refomasi", …these were the popular lines that still echo in my ears, in my mind. It's just too belittle to say that the great Karpal Singh as the one who lived and died in Malaysia but Karpal Singh the great who had lived, served, protected and died for all walks of Malaysians. That, my friend will be his justification. What saddens me more is the insensitivity of our younger generations of ultras taking the opportunity to bring up their so called ultra views at times like this. To me, that is the lowest of the low, tasteless and infantly-immature thinking. That can only come from a twisted, fictatious and closed-minded ideology. Friends, we have been independence since 1957 and our constitutional settlement called for a principle of equal citizenship for all races. Stay true to our constitution. Stay true to our fights. Protect our rights like what Karpal Singh has been fighting and protecting. Good bye Karpal, you will always be in our hearts and our minds to continue fighting and protecting for the love of our country and her citizens.
Apr
3
Homedec – home decor and design exhibition. This is a annual exhibition where you can look out for any resources pertaining to your home from ID, audio, home alarm system to kitchen cabinets and curtains. It's a one stop place to hunt for competitive deals from some renowned company. You may not find ovis for kitchen cabinet organizer, but there are other renowned local brands.   For someone who wants to redo the their house or looking for ID for their new pad should not miss out making a trip to the exhibition.
Mar
25
After 17 agonizing days of Search And Rescue (SAR) effort, finally with the confirmation from Britain's Inmarsat and Air Accidents Investigation Branch (AAIB), the ill fated MH370′s last confirmed location was the Indian Ocean. The next effort is to find the airplane's wreckage and black box. Until such efforts underway, there will be many speculations, theories and assumptions made by individual or groups. This will definitely increase the affected MH370′s family agony and it is best to give them ample of space for greifings. For whatever the reason, we should also give the investigators room and support for the on-going activities in the Indian Ocean. The suspected location of where MH370 is about 1,500 miles South West of Perth. Until the black box and wreckage is found, the only thing we can do now is to support the family of lost ones on flight MH370 by giving them space. Only time will heal the pain and have a full closure to the ill fated flight.
Mar
7
After opening for almost a week, the 2nd Penang Bridge does not seem to be attracting new uses. I took the guys out for seafood across the Straits today for lunch and still make it back on time. The difference of the new bridge besides being totally new is that it now has a dedicated motor lane and its the longest bridge in SEA. The unparallel design (ie. curvy) was ment to be a shock absorbnt in case of a tsunami or even an ath quake.
Atchung: an afternoon or even an evening drive on the bridge tends to make you very sleepy. Therefore, please bring something to chew or even songs to listen to when crossing the bridge.
Feb
19
For a professional musician, in order to play the musical instrument professionally, they always invest in accessories to make their instrument sounds better. For a drummer, one of the accessory that can make a different ,is the drum rim. Hart Dynamics Drum Hoop Rim Trim is one of the best hoop rim rubber It is is a durable, removable and replaceable rubber rim for all Acudrums for low playing. The rim offers an enhanced quiet rim shot and cross stick operation.
Feb
7
My waze made me drove through Proton City and the road was goood…dual lane and no pot holes or patch up works (like the ones you'd find heading north).  My recommendation will be a perfect road to burn your Lotus tyres. Well, this is the case when I took the inner trunk road to Tanjung Malim for the famous Yik Mun pau (ditanggung halal).
The kopi tiam (or coffee shop) is located at a T junction (on Jalan Slim River). You'll not miss it and if you do, just ask around. The beauty about Yik Mun (just like Chung Kok kopitiam in Klang) is its true 1 Malaysia. Owned by a chinese and enjoyed by all races. No race card here. All good. The Hainanese fried noodle and Chicken Chop is also good besides Yik Mun's chicken, beef, kya and bean pau's (RM2/- pc). If you're thinking of buying back, there are deep freee packs (RM20/pack). Also available is the freshly made kaya in jars.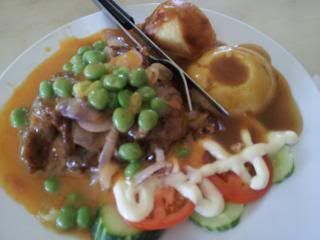 Feb
6
Best spot after dusk to chillout is by the poolside of SkyBar at Traders Hotel. Go before 6pm to get the best of twilight with KLCC as your backdrop..walla. A memorable evening indeed: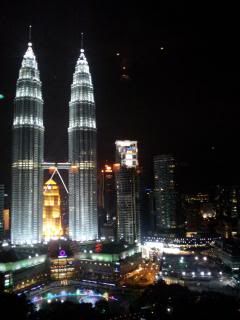 After having stood for more than 17 years, it is still the most recognized landmark in KL. Nobody's gonna give Cesar Pelli's design a miss, especially if you're a first timer to Malaysia.
Jan
27
Every 12 years the horse appears again in the chinese zodiac and begining from 31st of January this year, the prancing horse (Ferrarri, check out their F12berlinetta) will be laughing all the way to the bank. With sales expect to soar, especially in China, nothing is gonna stop the prancing horse. Unless if you're Lamborghini S.p.A (a bull? for its logo Taurus) fan. Unless if you're ready to fork out a good fortune to own a V12 Aventador, the bull will knock down the prancing horse.
Well, that's beside the point. In Chinese astrology, we have 12 different animals. From rat to pig, each animal has a different character and  personalities. The animal signs assigned by year represent what others perceive you as being or how you present yourself. There are 5 assiciated elements in which these animals are related to. This includes Earth, Fire, Water, Wood and Metal. I am a water buffaloo, rooster internally, horse outside and dragon as a secret animal. Wow, we're all inter-related.
Jan
24
As each day passs by, the more ridicule our Government is becoming. The rhetoric turn of events from water spinach incident to the usage of the word állah', if this country is going to be continued on áuto-pilot' mode, things will truely turnout to be ugly with racist remarks being spurred not only across cybe world but also on the ground. The recent incident of certain extremist political parties displaying placards and banners with racist slander uninterestingly creates no response from the targeted audience. So, aren't our police force or judicial team taking any actions against these culprits? Or better still, what does our PM doing about it? Keeping quiet and mum about the issue will end up having a snow ball effect at the end of the day. And the end of the BN days are coming nearer and nearer with the frustration of its citizens commenting on blogs, FB's and tweets.
Some commentators just gave up commentating on deaf ears and insensitive feelings of the Government. Well, listen up! There's a solution to this. The people wants a lower cost of essential items. Don't tell them to take less sugar when the subsidy for sugar has been reduced. First, stop the leakages. Start with the big fat leakages from the auditor general's findings on finance leakages everywhere. The recent being an explanation required to spend RM50million on firefighter's equipment that is deem not necessary. Where was the open tender? Was there any scrutinization being done prior to the purchase? and so on. The people of Malaysia is getting fed up of racist slurrs being played by certain quarters in the name of protecting its own religion and faith. The matter of name using, convesions and many more instances, it just make Malaysian's citizen just like you and me angry. Angry over the basic necessity that we have to pay higher price while the cronies sun bathing and sipping pina-colada's.
What are the things that has been distracted from us? This includes the increase of petrol price last year, GST of 6% that is to be implemented next year and a lot more. The talks of hiking tol rates, increase in school bus fees and even our cup of coffee were not disturbed. So, Mr.Government. The recovery strategy is a very simple one. This includes: stop the leakeges, have accountability and take corrective and meaningful actions to the auditor general 's findings. We don't need fancy consultants to formuate our country's direction. We all know that we have to co-exit together no matter if you're a Malay, Chinese or Indian
Have a joint meeting with the opposition or better still have a joint governance to lead this country back to it's glorious days where  we play together as one, whether if you're a Malay, Chinese or Tamil. We eat together, we play together and we thrife togetherness. No race base, no discriminations and no quota's. We can make a difference by teaching our Leaders how to govern our country. When you see poliemen in their patrol cars, tell them that they must put on their safety belts. When you hear a politician gives idiotic remarks, challenge him until he re-correct himself. That's right. Change begins with me and affects the people I interact with. With this little influence and by god, 20 million of us will bring our country back to the world's eye, whether it's on academic excellent or excelence in every aspect of life.